Zoe Wood
from the
Guardian
has noticed how the quiet growth of
floral print
is steadily taking over the high street. One designer that can profess this to be true is purveyor of "kitchenalgia" Cath Kidston, who has seen sales and profits have jumped more than 60%.
Accounts filed at Companies House show profits at the retailer increased from £2.9m to £4.6m in the year to March, as its
floral biscuit tins
proved a "tonic for recesssionistas."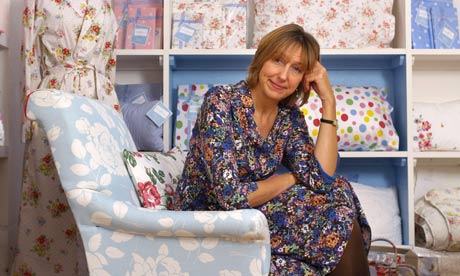 Kidston's
teapots
and
oilcloths
, which epitomise the image of the
1950s housewife
, celebrating baking, tea and buicsuits, have become addictive for a generation of women whose busy working and home lives have led them to idealise rather than practise domesticity.
There are 27
Cath Kidston
stores in the UK and Ireland, with 10 new retails outlets opening in the last 12 months. The prints have also risen in popularity in Japan, where Tokyo, Nagoya and Yokohama have outlets.